Come drink local with us
Jumping Goats is a small family-run neighbourhood bar in Margate, on the Redcliffe Peninsula in Brisbane. We pride ourselves on sourcing the best local craft beer from Brisbane and surrounds, world class boutique wines from Queensland, exceptional Australian craft spirits, and refreshing Australian non-alcoholic beverages.
While we serve bar snacks, please feel free to bring your own food from home or from any of our nearby takeaways—we have Bella Sicilia Pizzeria and Kob's Thai almost next door, Noodlebox across the road, and Dynasty Chinese is just a few minutes walk away.
Available for functions of up to 100 people, please contact us at bar@jumpinggoats.com.au or social media to discuss.
We're pet and family friendly!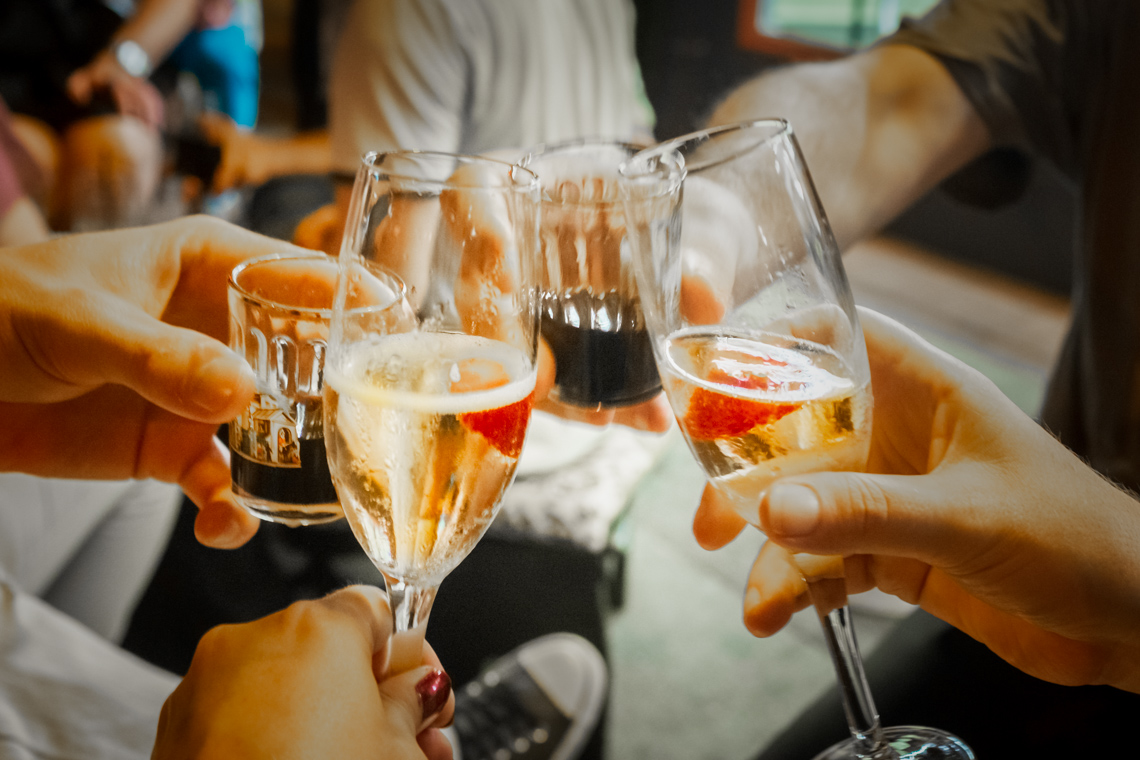 Find us
Opening Hours
Our closing times are "people-dependent"—if there's people here, we can stay open until midnight!
Wednesday 4:30–9pm
Thursday–Saturday 12–10pm
Sunday 12–9pm
Location
4/295 Oxley Avenue
Margate
QLD 4019
Entrance to car park off Ewan St

bar@jumpinggoats.com.au
07 3184 5473
About Us
Jumping Goats Bar is owned and run by father and daughter team Nigel Scanes and Peta Thames. Nigel is a Redcliffe Peninsula local who's been living here for over 30 years, a motorcycle enthusiast who loves a good chinwag, and he's long been on the lookout to start his own business. Peta has been lucky enough to live and travel overseas and in the process taste many of the world's premier wine regions, and firmly believes Queensland produces wines that hold their own with the best of them.
We've teamed up to bring one of our favourite experiences to Margate—an independent, locally-run and primarily locally-sourced cosy neighbourhood bar. Serving craft beers, boutique wines, a range of non-alcoholic options, and tasty spirits, we're keen to showcase the best Australian drinks we can find. We hope to make Jumping Goats a great place for Peninsula locals and visitors to relax with friends. Come in for a drink and say hi!
We're supported by Mandy Scanes and Will Thames. Without their love and ongoing support, this project would never have made it as far as it has.
Search for 'jumping goats videos' to understand the inspiration behind our name. We're hoping you'll have as much fun at our bar as those little creatures are!
Contact
bar@jumpinggoats.com.au
07 3184 5473
Subscribe here to our email list. Event news and advance notice on ticketed events. No more than one email per week. Your email address will never be sold or shared beyond Jumping Goats Bar.